Agricultural Safety and Health: The Core Course will be held again June 14-18 2021, please check back for updates.
The 2020 virtual course was held June 8-12.
The Agricultural Safety and Health Core Course has been the national model of effective agricultural safety and health education for over a decade. 
---
Live Course Components
Expert instruction is provided by experienced faculty and specialists including Board-Certified Physicians, Veterinarians, and Certified Industrial Hygienists. The course includes:
Agricultural Safety and Health Activities

Classroom Instruction

Safety and Rescue Demonstration Videos

Farm Tour Video

Case Studies/Panel Discussions

Podcasts

Producer and Provider Perspectives
---
 Ag Course Schedule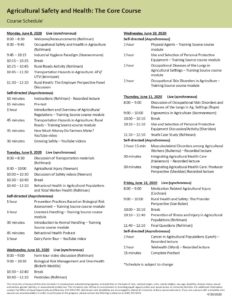 * schedule is subject to change
---
Course Faculty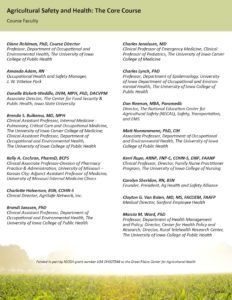 The course is appropriate for health care providers, public health practitioners, veterinarians, safety and health managers, and anyone interested in the unique safety and health needs of rural and agricultural communities.
The course provides information and skills needed to enable safety and health professionals to anticipate, recognize, and prevent occupational illnesses and injuries among members of the agricultural community.
---
Course Director
Diane Rohlman, PhD, Professor, Department of Occupational and Environmental Health, University of Iowa College of Public Health.
---
Academic Credit
The course offers graduate credit from the University of Iowa College of Public Health. 
---
Educational Objectives 
Click on the image below to view the educational objectives of this course.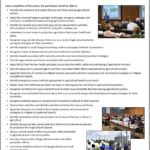 .
---
Registration
Registration fee includes course materials and awarding of continuing education credit.
Location
The virtual course was held online June 8-12, 2020.
Questions?
Contact Kay Mohling, Agricultural Safety and Health Course Coordinator, UI Research Park, 202 IREH Iowa City, IA  52242-5000 or via email at kay-mohling@uiowa.edu.
Funded in part by NIOSH grant number U54 OH007548 to the Great Plains Center for Agricultural Health