Welcome to the FarmSafe Podcast
During each episode, agricultural workers and public health experts share first-hand stories and real-life tips for making safer and healthier decisions while on the farm. At the end of each episode, listeners will be able to make a plan for preventing specific injuries or illnesses.  
You will be able to listen to the latest episode here or download it from your favorite podcast source (iTunes, Spotify, etc.). Past episodes will be available at the bottom of this page.
We want to hear from you 
Share your recommendations/stories/questions/comments with us. Choose one of three options: fill out a brief survey, write your comments in the text box, or upload an audio file. 
Take our survey
You can help us make this exciting project a reality by simply filling out this short (1-3 min) survey. We are looking for topics that are important to you, stories about how you successfully keep yourself and others safe on your farm, personal stories about injuries or fatalities in the farming community, and any questions you may have that we can discuss on the air. Thank you very much for completing this survey.
OR Share your story/topics/requests below in the comments box 
OR Upload an audio file
We're always looking for a good story or useful and interesting topics. We encourage you to upload an audio file or enter your ideas, questions, or comments in the areas provided below. If you want to share your story in a podcast, please enter your name and email address in the form below so we know how to contact you. We will not use your email address for any other purpose than to talk about your interest in the FarmSafe podcast.
To upload an audio file, simply drag the file onto the box below or click on "upload file here", select your document, hit "ok" and then "submit". Questions? You can email us at cph-greatplainscenter@uiowa.edu.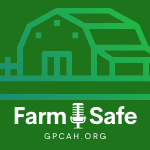 Farmers know: it only takes one moment to change your life forever.
Stories in progress 
Listen to these short clips to preview some of the stories shared with us so far.  Stay tuned for full episodes.
Original music written and performed by Ben Schmidt.