Hazardous Gases
Agriculture is host to many hazardous gases. Manure gas, a potentially fatal mixture of hydrogen sulfide, methane, ammonia and carbon dioxide, is commonly found within the manure pits or storage areas of beef, pork and dairy livestock buildings. Carbon monoxide is also a common hazardous gas found within livestock barns, especially when a heater or other combustible sources are present.
The following fact sheets, videos, and other helpful resources will help you better understand and prevent hazardous gas-related incidents when you're working.
---
Research Paper
Laboratory study of low-cost hydrogen sulfide monitor performance. Journal of Agricultural Safety and Health, 23(4): 265-279.  Click to view: Abstract or more information.
Gas Hazards in Agriculture
GPCAH Logo Only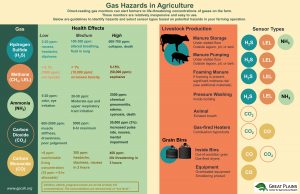 Co-branding with room to add your own logo

Manure Gas Fact Sheets
Manure Gas Videos
Hydrogen Sulfide Hazards
Hydrogen sulfide gas is toxic and potentially fatal with just a few breaths. In 2016, hydrogen sulfide was responsible for the deaths of two people and 71 head of livestock in the tristate area. The gas concentration levels can spike very quickly and unsafe levels may be released during activities such as manure pumping and agitating.
Fatality Assessment and Control Evaluation (FACE) Reports: Investigations of Manure Gas Fatalities in the GPCAH Region 
We encourage you to review the Fatality Assessment and Control Evaluation (FACE) Reports and recent media articles about hydrogen sulfide below to gain a better understanding of how gases can kill farmers.
Media Articles
Hydrogen Sulfide Monitors
Did you know that you can't smell hydrogen sulfide concentrations when they are high enough to be deadly? Hydrogen sulfide concentrations can increase quickly, so you must be vigilant about whether hydrogen sulfide concentration levels are safe while you are conducting manure-handling activities. Hydrogen sulfide monitors are easy to use and are a helpful guide to watch concentration levels. Monitors will alarm at certain set points that are considered unsafe, for example 10 and 15 ppm.
Learn more about hydrogen sulfide monitors by clicking on the information and videos below.
Equipment for Hydrogen Sulfide Monitor Demonstration Kits
Hydrogen Sulfide Safety Video
Effective Hydrogen Sulfide Monitor Use
Bump test the hydrogen sulfide monitor two weeks before and at the start of the day you plan to do hazardous activities
Bump test monitors outside of barn area or in an area with no hydrogen sulfide present
Wear the hydrogen sulfide monitor near your head or clipped onto your collar
Follow the videos and handouts provided below to bump test monitor
Bump Testing Equipment
Calibration Gas Bump Testing
Using 25 ppm calibration gas to bump test is a quick and easy method. The test enables you to check all alarms are working at both set points and that the monitor is reading accurately.
Handouts
Videos
Bump Testing-Aerosol Gas
Aerosol gas bump testing is an alternate method that enables you to check that all alarms are working at both set points. It may be difficult to determine if the aerosol spray gas bottle is almost empty.
Handouts
Videos