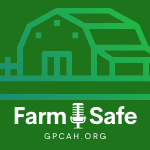 Share Your Story
We want to hear from you.
Are you willing to share any stories about injuries, close-calls, or events in your farming community that changed the way you farm or think about safety?
Do you have any stories about how you keep yourself and others safe on your farm?  What do you recommend others do so they stay safe?
By sharing what happened to you, we can let others know they are not alone and we can work as a community to identify and implement solutions to keep one another safe and healthy on the farm.
Your Story Helps Others Tell Their Story
We would like to incorporate your story – either an audio recording or written word – into a new FarmSafe podcast, where we invite farmers, engineers, and safety specialists to identify risks and prevention.  The goal is to provide simple tools to help Midwestern farmers lead the nation in not just farming but safe farming.  Below is how to participate.
Upload an Audio File
We encourage you to upload an audio file of your story.  See below for tips on how and where to record audio.  To upload an audio file, simply drag the file onto the box below or click on "upload file here", select your document, hit "ok" and then "submit". Questions? You can email us at cph-greatplainscenter@uiowa.edu.
OR Write it in the Comments Box
If you want to share your story but don't want to record it, you can type it into the comment box below and we can have someone read it on air for you. If you prefer to record with us over Zoom, please enter your name and email address in the form below so we know how to contact you. We will not use your email address for any other purpose than to talk about your interest in the FarmSafe podcast.
What Should Your Story Include?
Aim for three to five minutes when telling your story.  It's helpful to start by telling listeners a little about yourself (any relevant background about your farm or yourself; you can include your name if you want to share it, but you don't have to). Then tell us what happened, about the hazard involved, where and when you experienced it on the farm, and how you reacted.  Think about what may have contributed to the incident and finish up by telling others what they can do to prevent something similar happening. 
If your story is about how something you have or do to keep yourself safe on the farm, describe it to us.  Include details such as how long you have been using this method, why you started using it, and how it is keeping you safer.  Think about sharing any advice you have about this method with other farmers and how it might help them. 
Tips for Recording Your Story
Click on the PDF below to access helpful recording tips.