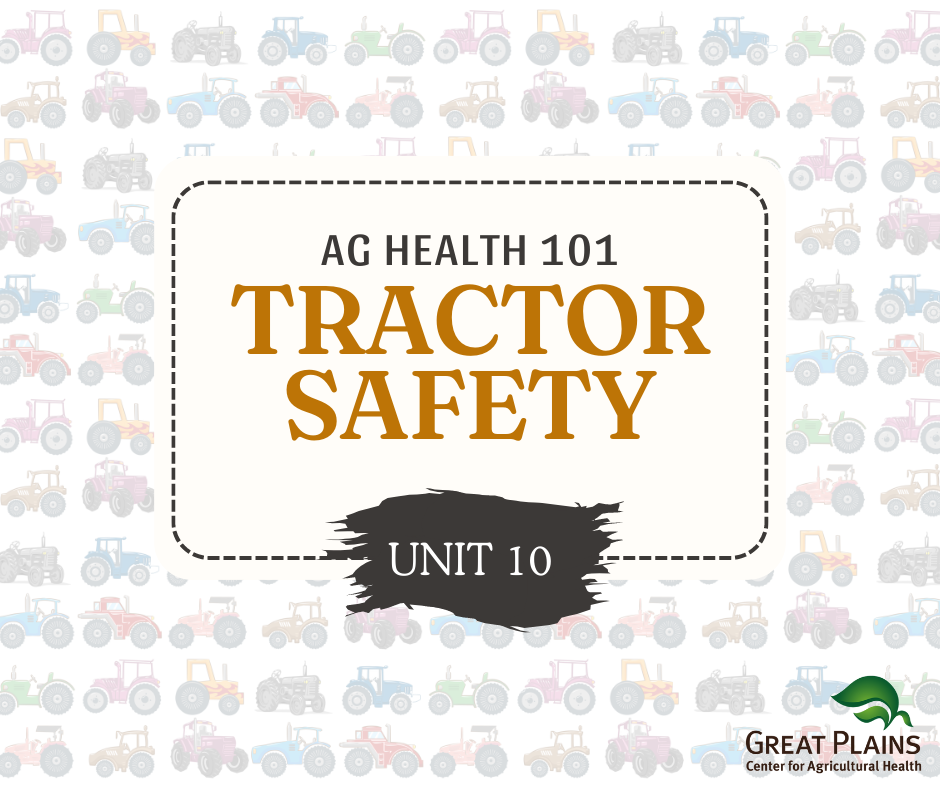 Tractor Safety
Unit 10: Ag Health 101
Sept. 7, 2023 – This is a Working Draft
This unit will introduce listeners to the hazards of operating or working around tractors on the farm. Throughout this unit, you will learn about the safety features on tractors, features of tractors that make operating them different compared to other vehicles, tips for safe operation, and risk factors for common injuries followed by recommendations.
Chapter 1: Introduction
This chapter provides an overview of hazardous conditions that are associated with tractor-related injuries. Requirements and best practices to reduce the frequency of these hazards will also be discussed in this chapter.
Chapter 2: ROPS (Roll Over Protective Structures)
In this chapter, you will become more familiar with the risks of tractor roll overs and how to prevent them. This chapter will also introduce you to an important engineering control to prevent injury related to a roll over: Roll Over Protective Structures (or ROPS).
Chapter 3: Collision Prevention
This chapter will discuss ways to reduce tractor collisions with other vehicles, including tractor lighting and marking, roadway factors, and driver behaviors and turning tractors. Guidance that has been shown to reduce roadway crashes with tractors will also be highlighted in this chapter.
Chapter 4: Powered Take Offs (PTOs)
In this chapter we will discuss one of the most common hazards when working around tractors: Powered Take Offs (PTOs). Listeners will learn about how the PTO works, hear several case studies about PTO-related injuries, and lastly, will be provided with important prevention measures.
Chapter 5: Final Tractor Safety Tips
This final chapter will highlight a list of final general recommendations related to operating a tractor. This list can help guide conversations with farmworkers when discussing measures for preventing tractor-related injuries on the farm.