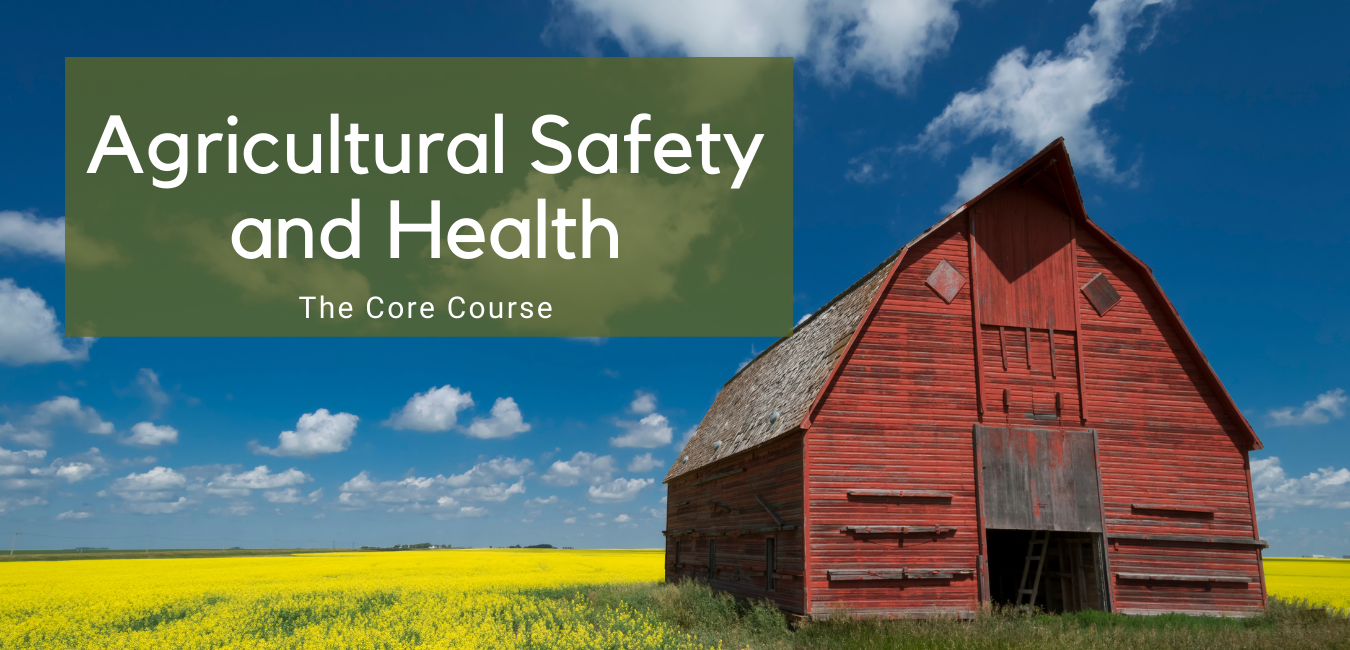 The Agricultural Safety and Health Core Course will be held
ONLINE ONLY

June 13-17, 2022

.
M-F  9:00 am – 2:15 pm CT
Registration for the 2022 course has ended. Please check back for info about 2023 registration.
About the course
The Agricultural Safety and Health Core Course has been the national model of effective agricultural safety and health education for over a decade. The course provides information and skills needed to enable safety and health professionals to anticipate, recognize, and prevent occupational illnesses and injuries among members of the agricultural community. Expert instruction is provided by experienced faculty and specialists including Board-Certified Physicians, Nurses, Veterinarians, and Certified Industrial Hygienists.
The Course includes:
Classroom Instruction

Agricultural Safety and Health Activities

Small-Group Discussions

Case Studies

Virtual Farm Tours

Interactive Exercises

Producer, Provider, and Industry Perspectives
An optional Virtual Respirator Fit Test Workshop will be provided to interested course participants – date and time TBD
Course dates 
June 13-17, 2022
Course director
Diane Rohlman, PhD, Professor, Department of Occupational and Environmental Health, University of Iowa College of Public Health.
View the full faculty list.
Intended audience
Appropriate for safety and health managers, health care providers, public health practitioners, veterinarians, and anyone interested in the unique safety and health needs of rural and agricultural communities.
Academic credit
The course may be taken for 3 hours of graduate credit from the University of Iowa College of Public Health. Students must register for OEH:6110, Rural Health and Agricultural Medicine (Summer Session 2022).
Continuing Education Credits
Nurses:  The University of Iowa College of Nursing is an Iowa Board of Nursing provider #1. With full-time attendance, 33 contact hours will be awarded.
Nursing CE Credit Certificates will be available to all who complete a post-conference evaluation. Instructions will be provided at check-in. Certificates will not be mailed.
Emergency Medical Services:  The program has been approved for 19 EMS Continuing Education Hours by the University of Iowa Hospital's EMS Learning Resources Center.
 Veterinarians: The Iowa Board of Veterinary Medicine has approved this course for 30.75 CEU.
American Board of Industrial Hygiene: ABIH® Diplomates can claim CM credit for this event. See http://www.abih.org/maintain-certification/cm-credit-education-events for more information.
Course topics include: Occupational Safety and Health in Agriculture, Transportation Hazards in Agriculture, Physical Agents for Agricultural Health, Agricultural Injury, Pesticides, Safety and Rescue Demonstrations, Hazards Associated with Livestock, Farm Tour, Implementing Prevention Practices Based on Biological Risk Assessment, Psychosocial Hazards in the Agricultural Industry, Farmworker Health, Pork Producer Industry Perspective and Virtual Farm Tour, Rural Health and Safety: The Employer Perspective, Occupational Diseases of the Lung in Agricultural Settings, Ergonomics in Agriculture, Youth Case Study, Occupational Skin Disorders in Agriculture, Use and Selection of Personal Protective Equipment, Musculoskeletal Disorders among Agricultural Workers, Telemedicine, Prevention of Illness and Injury in Agricultural Populations, Medication-Related Agricultural Injury, Cancer in Agricultural Populations
Registration for 2022 has ended. 
The deadline to register was June 6, 2022. The course is available online only this year.
Registration Fee – Preregistration is required
On or before 6/1/2022  $250
After 6/1/2022                $300
Registration fee includes course materials and awarding of continuing education credit.
Refund Policy: If circumstances arise and you are unable to attend, please notify kay-mohling@uiowa.edu of your registration cancellation by June 1, 2022. You will be reimbursed $150.
Questions
If you have questions about course content, please contact Kay Mohling, MA.