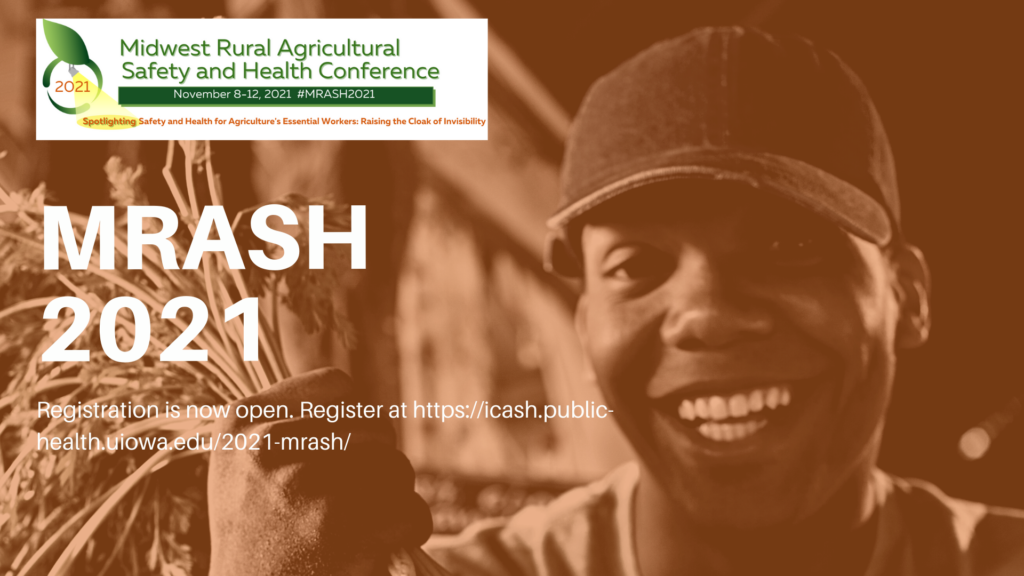 MRASH is now accepting abstracts on topics related to agricultural health and safety research, surveillance, education, outreach, and intervention. Abstracts focusing on emerging issues and evidence-based practices are highly encouraged. Abstracts will be accepted through July 15, 2021. Poster abstracts will be accepted through October 15, 2021.
Apply here.
M

RASH conference to highlight safety and health of vulnerable farmworkers
MRASH conference to highlight safety and health of vulnerable farmworkers
Virtual conference places the spotlight on immigrants, migrant and seasonal workers, veterans, women, children, and indigenous populations in agriculture with the hope of improving access to health and safety resources.
Contact: Jenn Patterson, GPCAH Coordinator (jennifer-j-patterson@uiowa.edu); 319-594-2704)
Publish date: 10/5/2021
Farm workers across the U.S. are essential workers, showing up every day so we can have food in our markets and on our tables. Aside from the ongoing hazards caused by COVID-19 and a national drought, vulnerable farmers risk injury and illness when planting, spraying, harvesting, and caring for livestock. The risks of these hazards increase with long working hours and can be magnified where language and cultural differences exist.
This November, the Midwest Rural Agricultural Safety and Health Conference (MRASH) turns its attention to farm safety and health to shine a light on vulnerable workers in agriculture. Every morning from November 9 through 12, MRASH will lead discussions on these and other topics such as stress, machinery safety, aging, and young workers.
Assistant Professor Athena Ramos from the University of Nebraska Medical Center's College of Public Health will moderate an important keynote panel made up of leaders in the field on Tuesday, November 9 at 9 am.
Ramos notes, "It is vital to recognize and better understand vulnerable populations working in agriculture so that we can improve outreach, education, and services to meet the needs of this diverse workforce. I'm excited that we can provide a space for this discussion and enhance the visibility of some of the critical issues that affect worker well-being." 
Drs. Jan and Cornelia Flora, rural sociologists well-versed in migrant, immigrant and indigenous issues — will kick off the discussion portion of "Raising the Cloak of Invisibility for Vulnerable Populations" which will most certainly set the tone for the rest of the conference.
Since this year's conference is virtual, registration will be free for students, farmers, FFA/Voc Ag instructors and health care workers.  MRASH organizers want to encourage all interested safety and health advocates to participate in the discussion. Conference attendees are invited to attend the online pre-conference workshop on Monday, November 8th at 4 pm to learn about a new tool for assessing farm safety. A student career session will take place at 8:15 on Wednesday morning. Poster sessions, round tables, and Q&A breakout sessions will create additional opportunities for attendees.
Conference Organizer Gayle Olson from Iowa's Center for Agricultural Safety and Health said, "We are working hard to find new and creative ways to help build connections and create a solid online community this year," said Gayle Olson, Assistant to the Director of Iowa's Center for Agricultural Safety and Health.
Visit https://icash.public-health.uiowa.edu/2021-mrash/ to register for the event, strengthen your network, and join in MRASH's effort to make agricultural work safe for all farmworkers. 
MRASH is sponsored by I-CASH, CS-CASH and GPCAH. 
For MRASH updates: follow GPCAH on Facebook and Twitter  (#MRASH2021).
MRASH Conference
In 1990, the Iowa State Legislature identified a need for a statewide center addressing concerns in agricultural safety and health. Iowa's Center for Agricultural Safety and Health came out of that legislative session and continues to be one of the only mandated, state-funded centers for agricultural safety and health in the country.
Designated as a collaborative effort between four Iowa institutions: The University of Iowa, Iowa State University, the Iowa Department of Public Health and the Iowa Department of Agriculture and Land Stewardship, I-CASH works to improve the health and safety of the agricultural population by developing statewide prevention and educational initiatives.
Although there have been many structural and technological changes in Iowa's agriculture, farm-related injuries and fatalities remain higher than those in other industries.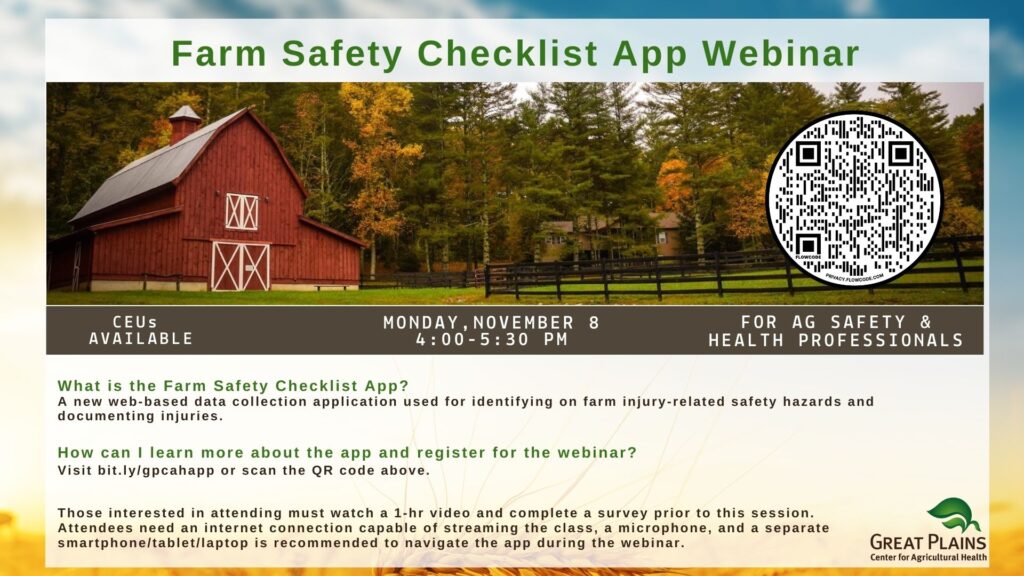 ---
Past MRASH Conference Agendas

MRASH 2020 was virtual. The virtual conference offers a bonus:  individuals worldwide interested in agricultural health and safety information, research or outreach projects can consider submitting an abstract, becoming a sponsor or attending the conference.  The conference included:
Live-streamed presentations from 9 a.m. to noon each day – Tuesday, Nov 17 through Friday, Nov 20

Pre-recorded presentations and posters online anytime
Online discussion with pre-recorded and poster presenters from noon – 12:30 each day
Virtual sponsor exhibits
Conference extras
Nov 17
K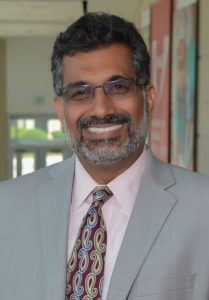 eynote:  Emerging Zoonotic Diseases Impacting Agriculture:  What Comes After Covid 19?  Ali S. Khan, MD, MPH, MBA, Dean of the College of Public Health at the University of Nebraska Medical Center (UNMC) and former Assistant Surgeon General
Ali S. Khan is Dean of the College of Public Health at the University of Nebraska Medical Center (UNMC) and a former Assistant Surgeon General with the US Public Health Service. Dr. Khan's professional career has focused on health security, global health, and emerging infectious diseases. He completed a 23-year career as a senior director at the CDC, which he joined as a disease detective, and where he led and responded to numerous high profile domestic and international public health emergencies. Dr. Khan was one of the main architects of CDC's national health security program and continues this work at UNMC, which has been nationally designated to prepare the American healthcare system to respond to outbreaks of high hazard pathogens. He also continues to actively support global outbreak responses such as the response for the West Africa Ebola outbreak in Sierra Leone and the Rohingya refugee crisis in Bangladesh as a member of World Health Organization (WHO) Global Outbreak Alert and Response Network.
As Dean of the UNMC College of Public Health, his focus is on health system and community-based health transformations. His vision is for the College to play an integral role in creating the next generation of Public Health Guardians and devising innovative solutions and new interventions to address public health challenges. The College is committed to education with a purpose measured by the impact in our communities starting with making Nebraska the healthiest and most equitable state in the Union as a national and global model for wellness.
Dr. Khan received his medical degree from the State University of New York Downstate Medical Center in Brooklyn and has a Master of Public Health from Emory University's Rollins School of Public Health. He completed his pediatrics and internal medicine training at the University of Michigan. He has authored numerous papers and publications and has consulted extensively for multiple US organizations, ministries of health, and the World Health Organization where he serves on the steering committee for GOARN.  Dr. Khan is the author of The Next Pandemic: On the Front Lines Against Humankind's Gravest Dangers.