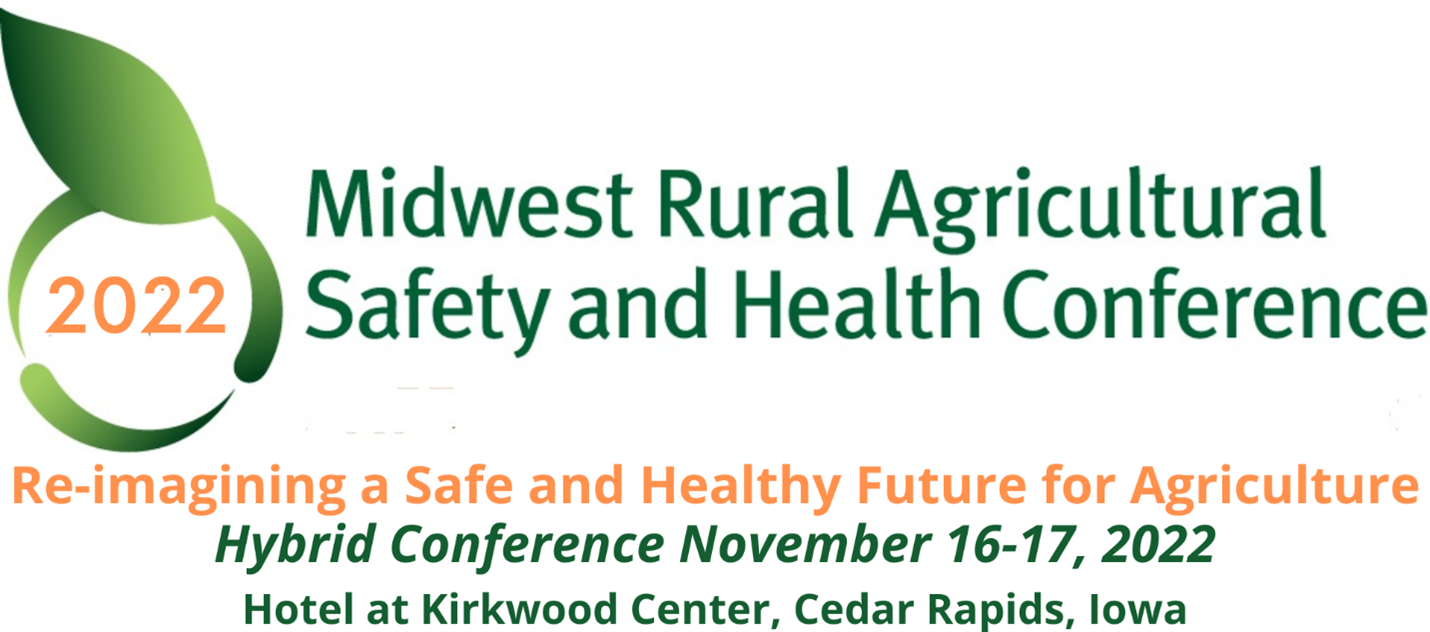 ---
Now Accepting Abstracts! 

 

This year, there are two separate abstract forms to use:

Click on the Abstract Information icon for more information.
---
We recognize we are all emerging into a changed world, for numerous reasons – supply chains, worker shortage, land transfer, technology, climate and economics to name a few.  Many circumstances won't go back to "normal".  At MRASH 2022, we will explore these changes, consider their significance and brainstorm strategies.
How will we move forward into the future? 

What impact will those changes have on the health and safety of the people who live and work on the farms that produce food and fiber for the world? 

What are the implications for the global response to the food and fiber sector for the world?
MRASH: New for 2022!
Both in-person and virtual options to attend and present

Expanded website resources featuring trends in agriculture and health

Flipped learning with background material online ahead of time allowing more discussion and interaction at the conference

Taster Session reception with new ideas, great food and lots of people to share them with

First hand look at one of the top ag community colleges in the nation

Pre-conference workshop on Respirator Fit Testing
We have missed getting together in person but have valued the involvement of people from around the world who have been able to join us in the past two years.  This year's conference will work to include the best of both approaches.  We plan to use our conference website to collect resources to explore major changes occurring in agriculture, rural life and health.  We will schedule a live Zoom session during the first part of November to bring experts' knowledge of those changes to our table.  The in-person conference on November 16-17 will use a variety of formats to encourage conversations, engagement and problem solving.  Online participation will be one of those formats.
---
Students are important to the MRASH Conference and this year is no exception.  Our in-person site will be on the campus of Kirkwood Community College in Cedar Rapids, Iowa, where we will have an opportunity to see top notch programs and hear from students and faculty.  What do some of the newest ag and health professionals have to tell us?  Graduate students from around the world, with their cutting edge research, fresh energy and enthusiasm are huge contributors to MRASH.  We look forward to the student networking session which will include in- person interaction but will also opportunities to participate online.
---
Join our re-imagined Taster Session Reception!  The #betterposter format many people used last year was a big step forward.  The 3-5 minute flashtalks about the posters were also well received.  This year we are encouraging presenters to think ever further outside the box.  The best way to do that may not be a poster at all.  Perhaps it involves art, music, demonstration, an object lesson – bring your best ideas to answer these questions!
How can you present your project in a way that summarizes the very essential points?

How do you encourage conversation to better connect with other conference attendees? 
Please join us!  And be sure to bring your imagination!
Timeline:
May 1:  Save the date announcement
June 1: Abstract submission process opens
August 1: Abstracts for presentations are due
September 1: Presenters notified
September 15:  Registration begins
October 15: Abstracts for posters are due
First half of November: Zoom Webinar with Keynote Presentation: Trends in Agriculture and in Health
November 15:  Pre-conference Workshop – Respiratory Fit Testing Training
November 16-17:  In-person conference at Cedar Rapids