PERSONAL PROTECTIVE EQUIPMENT (PPE) RESOURCES ON THE FARM
DID YOU KNOW…
Properly using well-fitting PPE can reduce the risk of injuries and illness on the farm. But how does one go about selecting the appropriate PPE for the task?  
By conducting a PPE Hazard assessment, you identify the hazards that are (or MIGHT be) present and identify what those hazards are and what personal protective equipment is needed to reduce the risk of an injury or illness. These assessments should be performed for each task that are performed on the farm.
Farming hazards to consider when conducting hazard analyses include the following:
Dusts:  the task of generating airborne concentrations of dust, including organic materials, bacteria, endotoxin, fungal spores, or dusts with pesticide residues.
You may need eye and respiratory protection; coveralls will be useful to prevent contamination.
Chemicals:  pesticide- or chemical-handling tasks, gasoline, diesel
Depending on the task, you might need eye, respiratory protection, chemical protective gloves, and clothing, maybe including shoes.
Compressed gases: such as liquid propane (LPG), welding gases
Eyewear is often required; some gases may need protective gloves
Confined spaces:  grain bins, manure storage, silo
If you don't know whether there is sufficient oxygen or whether concentrations of gases in the space are dangerous (e.g., you don't have a gas monitor), entry using supplied air respirator is the only safe entry.
Potential projectiles (including dust) from cutting, grinding, sawing, drilling, mowing
Eye and face protection are important.
Sound levels that make you raise your voice to be heard, commonly from machinery, livestock, tools
Hearing protection, either muffs or plugs
Sun: when working outside, protection from the sun and overheating
Sun-blocking lotions, clothing, hats, and glasses

Breathable fabric to wick away sweat
Working at heights: personal fall arrest system is recommended when working 6 feet above ground level
Working below others or in tight spaces:  may need head protection
Consider different tasks performed throughout the day to determine when and what appropriate PPE is needed.
Protect Yourself from Your Head to Your Toes
When conducting a PPE hazard assessment, consider the needs to protect yourself from the top of your head to your toes.
Head Protection
If there is overhead work (where something might fall onto someone's head below) or if you are working in areas where the risk of hitting your head (such as on equipment, beams, or piping), head protection is recommended.  A hard hat (Type 1 for impact from the top; Type 2 for impact from above or the side) that complies with ANSIH Z89.1 is needed.  If there are electrical hazards, a Class G protects up to 2000 volts, but utility workers need a Class E hard hat.
Eye Protection  
Safety glasses protect the eyes from flying objects, with lenses and frames tested to withstand the impact of a ½" steel ball moving at 150 f/sec

Safety goggles provide improved protection for smaller fragments (like when grinding) because they seal the eye.  These come in vented (for non-chemical hazards) or non-vented (if chemicals are part of the hazard) styles. If chemical splashes are possible, safety goggles are recommended over safety glasses.
Face Protection
Face shields provide face protection, covering below the chin to the forehead and extending from cheekbone to cheekbone. These protect the face against flying debris, chemical splash, explosive power tools, etc.  Impact resistance is assured only whith face shields that meet ANSI Z87.1 performance requirements.

Remember that face shields do not provide eye protection, so using them in combination with glasses is needed to protect the eyes unless the shield fits tight to the face.

Some face shields are integrated into hard hats, such as with chainsaw protection, to make layering protection easier.
Hand and Arm Protection
There is no ANSI standard for gloves like there are for eye and face protection.  When selecting gloves, it is important to understand the protection needed (physical abrasion, chemical protection) before selecting the right materials for use.  There are four main groups of gloves:
Work gloves made of leather, canvas, or metal mesh (not for chemical protection; mostly for heat or cut resistance)

Fabric and coated fabric gloves (again, not for chemical protection; mostly for dirt and slip-resistant protection)

Chemical- and liquid-resistant gloves (if chemical protection is needed)

Insulating rubber gloves (for electrical hazards)
The following needs to be known to select the glove material:
What is the chemical being handled

What is the nature of contact (will you have to contact the chemical to do the job, or are you protecting against splashes)

How long the contact occurs (short tasks mean you may want cheap disposable materials; long tasks may need more durable materials)

Area requiring protection (do you just need the hand, or the hand and forearm, or do you need full arm protection) – this is a function of the task being performed

Grip requirements: will the hand be mostly dry, or will it be wet or covered in oil

Do you need thermal protection – for liquid propane dispensing, need thermal protection

Size and comfort – need to try out gloves to see if it fits

Abrasion – are tasks likely to abrade the glove (e.g., nitrile is better at not tearing compared to latex)
The table below provides a general description of glove materials to consider when selecting chemical resistance.  It is critical to confirm the chemical resistance for YOUR chemical with the GLOVE MANUFACTURER's Data for the glove you purchase.  This table gives you a general place to start the selection process.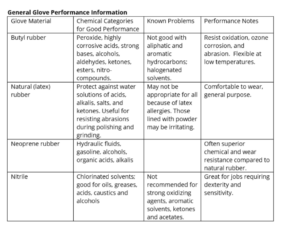 See Table 4 in https://www.osha.gov/sites/default/files/publications/osha3151.pdf for chemical-specific chemical resistance selection guidance for these four glove families, but then check with your glove manufacturer to confirm with their formulation.
Body Protection
There are some tasks that require protecting the body from additional hazards, including physical hazards (temperature, tools) and chemical hazards.  Selecting the material and body coverage needed based on the hazard that needs protection.  Body protection can include coveralls, vests, jackets, aprons, or full body suits.  Here are some guidelines for material types:
Paper type fiber, including Tyvek, is for single-use protection against dust and possible splashes (remove if splash occurs)

Treated wool and cotton is comfortable in a wide range of temperatures and is fire-resistant, protecting against abrasions and rough irritating surfaces.

Duck cloth is heavier than above and protects against cuts and bruises when handling heavy or sharp/rough materials.

Leather is used to protect against dry heat, flames, and sparks.

Rubber, rubberized fabrics, neoprene, etc. protect against chemical hazards. The same recommendations to check the fabric with the chemical of concern with the manufacturer is recommended.
Hearing Protection
When working in loud areas, even for short durations, hearing protection is recommended.  This includes both earmuffs and earplugs.  The goal of hearing protection is to reduce the sound level at the ear (inside the ear of the wearer) to below 85 dBA.  Visit <<GPCAH LINK>> for specifics on hearing protection use, selection, and guidance.
Personal Fall Protection System
When working at heights, including any work inside a grain bin with any stored materials inside, a personal fall protection system is needed.  This system requires the person at risk of falling to wear equipment (harness, a lanyard that connects to the harness and an anchor point) and the structure to have sufficient anchorage (5000-pound force) to support the force of a falling worker and to successfully retrieve the person who may be engulfed.  On the farm, these systems are recommended for roof work, working at elevation, and when entering grain bins and manure pits.
Foot and Leg Protection
Foot and leg injuries can occur from many ag operations.  Considerations of when to wear footwear with protective toes (ASTM F-2412/2413-2005 or older ANSI Z41-999) requires assessing the risk of crushing injuries to the foot.  Additional foot/leg protection can include:
Snap-on leggings to protect from heat hazards from welding sparks

Metatarsal guards to protect the instep from impact and compression hazards

Foot + shin guards to protect the lower legs

Puncture-resistant insoles

Electrically conductive soles (never wear if exposed to electrical hazards)

Oil-resistant soles

Electrical hazards shoes (prevent the wearer from completing an electrical circuit to the ground)
Respiratory Protection
Respirators should be selected based on the airborne hazard facing a worker.  To select the correct respirator, we need to know the hazard (what is the gas, vapor, dust), the concentration of the hazard in the environment, and the "safe level" of that contaminant, called the "Occupational Exposure Limit" or OEL.
Respirator Selection
From that information, you can determine the type of respirator based on how each of the following questions are answered:
Is there sufficient oxygen (19.5%) in the environment? To use an air-purifying respirator, there MUST be sufficient oxygen to breathe.

Is the concentration of the contaminant below the manufacturer's maximum use concentration (MUC) of a respirator-cartridge combination? The respirator can be used safely only if the concentration in the air is LOWER than the manufacturer's MUC.

If below the MUC, you select the most simple type of respirator based on whether it provides enough protection. To do this, calculate the Concentration / Assigned Protection Factors (set by OSHA) for the respirator you want to use.  If this ratio is below the OEL, you can use that TYPE of respirator.




The Assigned Protection Factor (APF) based on of the respirator type
Only NIOSH-certified respirators can be used in the US to protect workers from airborne hazards. Here is a respirator selection guide.
Respirator Fit-Testing
Once you select the respiratory type and filtration material (based on the gas/vapor/dust composition), you need to make sure that there is a manufacturer, model, and size that fits the worker.  This requires fit testing to make sure the respirator fits the wearer and also requires that every time someone puts that respirator on, they perform a fit check to make sure it still fits.  Here is a respirator fit-testing guide.
Additional Respirator Resources
Additional information to help you determine what you need and how to take care of it is provided in the motion graphics below:
This guide

is an example of how the concentration and hazard levels determine respiratory protection while working with poultry during avian influenza outbreaks.

Examples of PPE are eye protection, hearing protection, feet protection, respiratory protection, gloves, and full body suits. By figuring out what the hazards are for your task, it will depend on what PPE you will need.