Avian Influenza (Bird Flu)
Highly Pathogenic Avian Influenza (HPAI), also known as "bird flu," is a highly contagious disease currently circulating in the United States among birds. According to the CDC, these avian flu viruses spread naturally among wild aquatic birds and can infect domestic poultry. It is highly contagious among birds and is often fatal to chickens and turkeys.  On April 28, 2022, the CDC and the Colorado Department of Public Health and Environment reported the first human case in the US of this current strain of avian flu.  The man who tested positive was working at a commercial farm in close contact with infected poultry. The CDC still considers the risk to the general public as low. If you work with poultry, see our guidelines for personal protective equipment below.
Avian Flu: Personal Protective Equipment Guidelines
GPCAH, in collaboration with its partners at AgriSafe Network, Central States Center for Agricultural Safety and Health, and Upper Midwest Agricultural Safety and Health Center, has produced a resource outlining personal protective equipment (PPE) recommendations for workers in poultry facilities. This document was updated in April 2022 and again in June 2022. Click on the button below to download and print the guidelines document.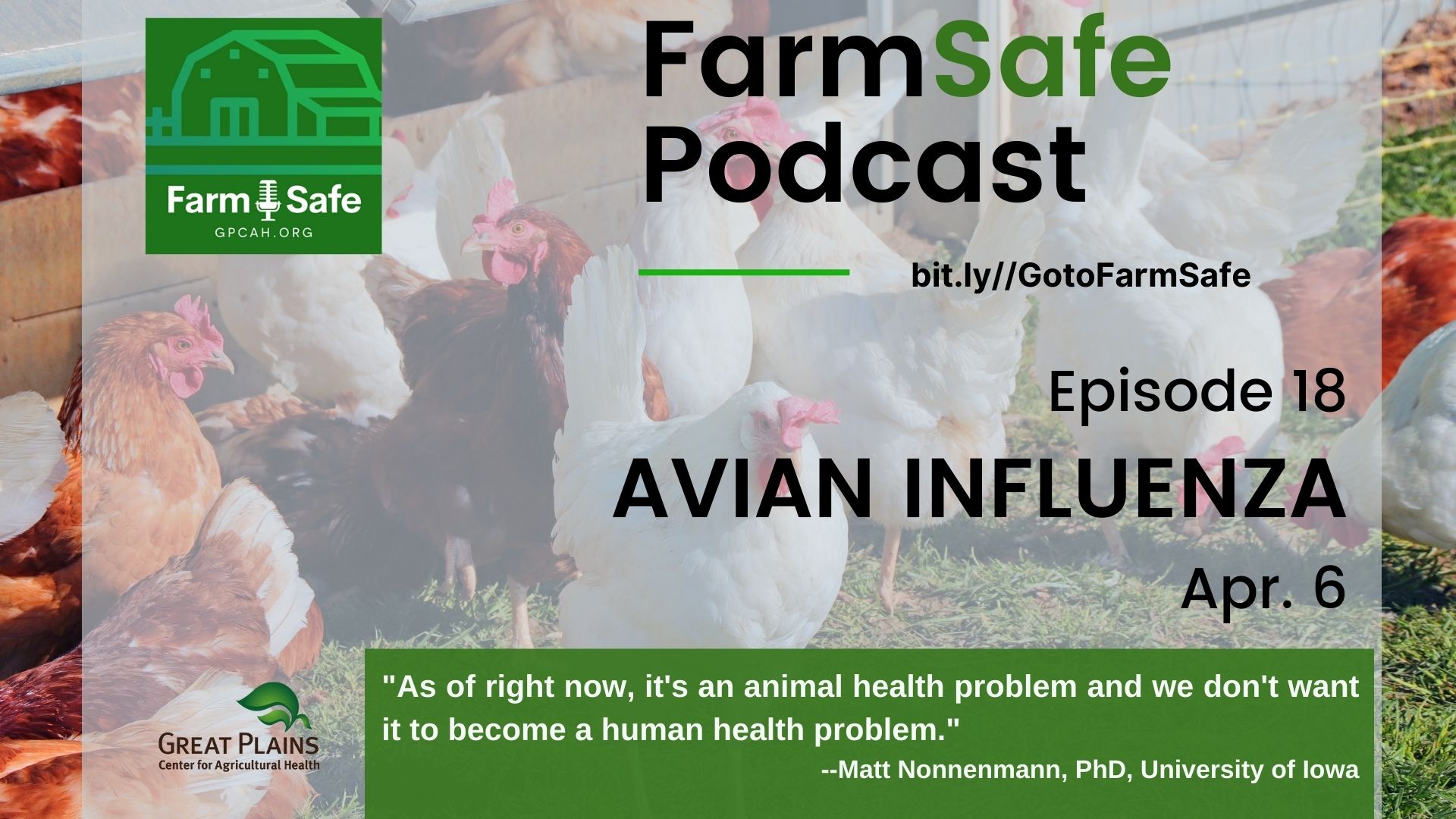 We talk with Renee Anthony and Matt Nonnenmann from the University of Iowa about what poultry farmers can do to protect themselves from the virus and other hazards they might be exposed to while culling flocks or decontaminating farms and vehicles.
"I think we need to look at the whole continuum of exposures that operators may have during this outbreak." – Renee Anthony, GPCAH Director
National resources for information about avian influenza:
State-specific information for our region:

What to do if you find a dead bird
State and local governments have different policies for collecting and testing birds, so check with your state health department, state veterinary diagnostic laboratory, or state wildlife agency for information about reporting dead birds in your area. Wildlife agencies regularly investigate sick or dead bird events if large numbers are impacted. This type of reporting could help with the early detection of illnesses like West Nile virus or bird flu. If local authorities tell you to throw away the bird's carcass (body), don't touch it with your bare hands. Use gloves or a plastic bag turned inside out to place the body in a garbage bag, which can then be thrown away in your regular trash. To report unusual signs in birds you have seen in the wild, call 1-866-536-7593. (text from https://www.cdc.gov/flu/avianflu/prevention.htm#What-to-do-dead-bird)

In this video, K-State poultry specialist Scott Beyer gives some advice on what to watch for in wild birds and how to keep the avian flu from reaching your poultry.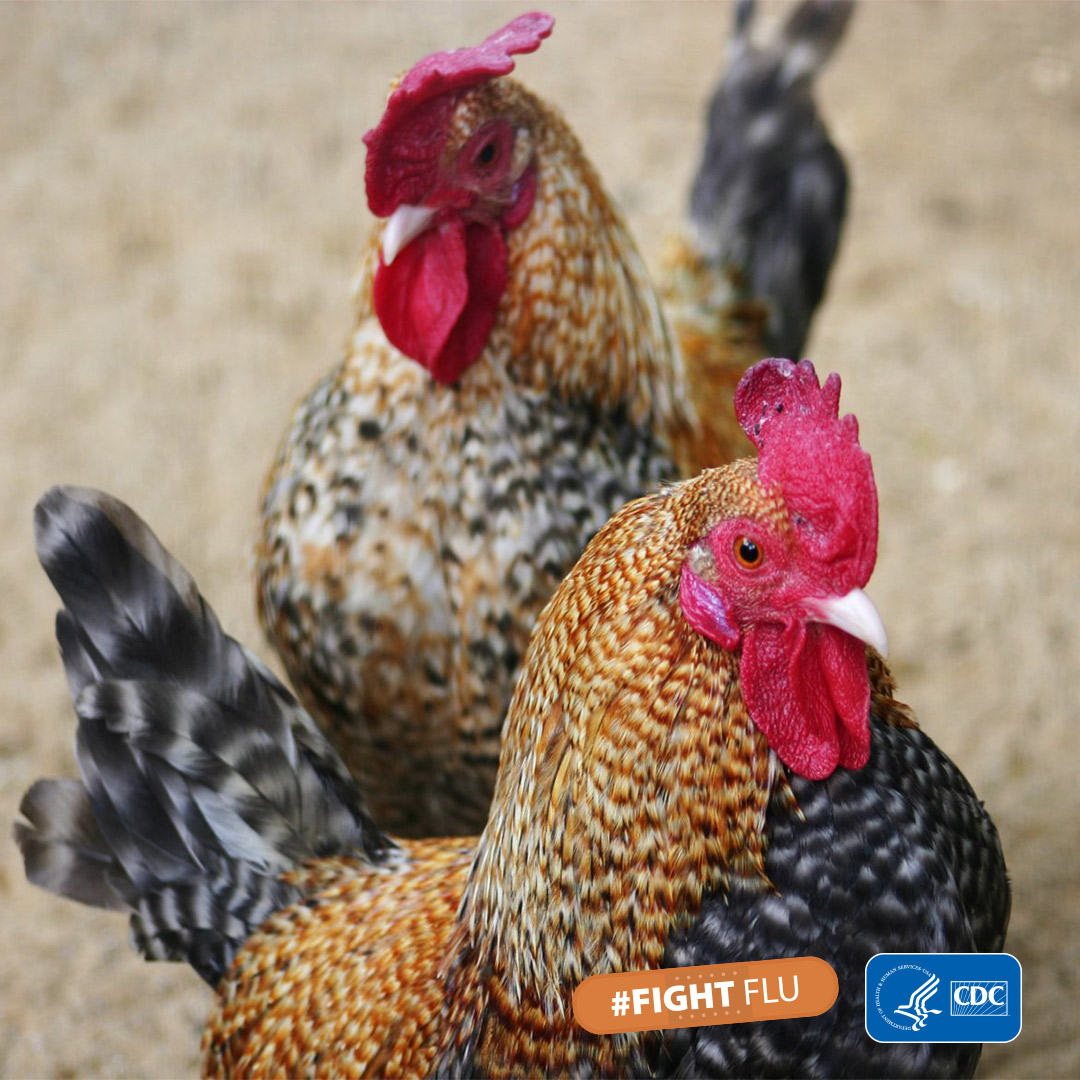 Did you know there are ongoing outbreaks of H5N1 bird flu in wild birds and poultry in the United States? CDC recommends people with exposures take precautions to avoid bird flu virus infection, even though human infections are rare. If you have a backyard poultry flock, protect your poultry and yourself against bird flu. Visit the CDC's page here: https://www.cdc.gov/flu/avianflu/avian-flu-summary.htm.