May is Mental Health Awareness Month
American farmers and their families face tough challenges. Economic uncertainties of tariffs, falling commodity prices, and challenging spring weather have compounded farming's usual stressors. The GPCAH  has provided this webpage as a simple resource to help farmers, workers, and their families find ways to get help if and when they need it. If you would like to get involved with promoting Mental Health Awareness Month, please visit https://gpcah.public-health.uiowa.edu/mental-health/.
Please note: This is not a comprehensive guide, so please check with your doctor or call 911 if you need immediate medical attention.
Webinars
Suicide and the Agricultural Way of Life: What You Need to Know
You may still view this webinar even though it has already taken place. Please visit http://bit.ly/MHAWWebinar.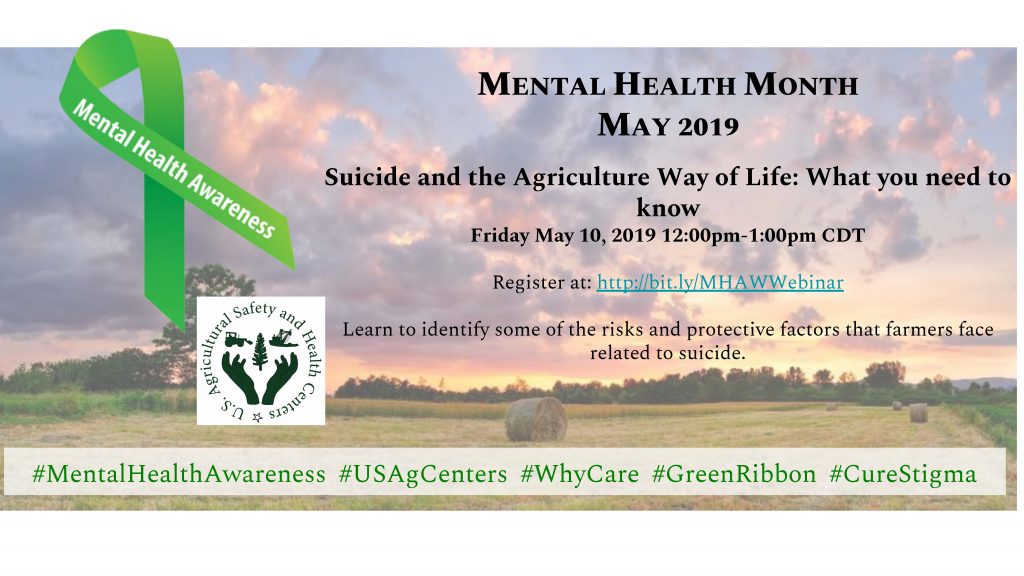 Presented by Shauna Reitmeier, MSW, Chief Executive Officer of the Northwestern Mental Health Center
This webinar will help identify some of the risks and protective factors that farmers face related to suicide. It will give attendees some tools and strategies to identify if someone is at risk, to ask difficult questions, and find resources for additional support. The discussion will last approximately 40- 45 minutes, followed by an interactive Q & A period.
This webinar will be recorded and made available after the session for those who could not make the live session or for those who would like to listen again
Presenter Shauna Reitmeier, MSW, has over 20 years of experience in the behavioral healthcare and cognitive disabilities fields. She currently serves as the Chief Executive Officer of the Northwestern Mental Health Center, which serves a comprehensive array of behavioral healthcare services to adults, children and families across six rural and frontier counties of Northwest Minnesota. Her background of growing up on her family's two-generation farm, working the fields during harvest and experiencing the stressors and joys the agriculture way of life brings has brought awareness and insight to her work within the communities she serves. For questions about the webinar, contact Doris Mold, the project leader of the Cultivating Resiliency Project, at doris@sunriseag.net. The project was funded by a UMASH partner grant.
Agrisafe Webinar Using Naloxone to Reverse Opioid Overdose in the Agricultural Workplace: Information for Employers and Workers
May 21, 12:00 p.m. – 1:00 p.m. CST
After registering, you will receive a confirmation email containing information about how to join.
In 2018, the U.S. Surgeon General called for increased awareness and availability of naloxone, the opioid antagonist, to reverse the effects of an opioid overdose. Despite the rise in the dispensing of naloxone, there is a significant gap in our response across all sectors of society. In the rural parts of our country, where emergency response times can be dangerously long, developing a workplace naloxone availability and use program could ultimately save lives.
This webinar will share information from the National Institute for Occupational Safety and Health (NIOSH) to help employers and workers understand the risk of opioid overdose and the role of naloxone. By the end of the webinar, participants will be able to:
Discuss what medications are prescription and illicit opioids and define Opioid Use Disorder
Describe the dangers of opioids in the workplace and OUD for safety-sensitive occupations
Discuss the role of naloxone in opioid overdose ü Discuss the implementation of workplace naloxone use programs
Understand the administration of the dosage forms available for naloxone used in an emergency
Presenter Heather Lyons-Burney, Pharm. D., is a clinical assistant professor at the Division of Pharmacy Practice and Administration at the UMKC School of Pharmacy at MSU. Dr. Lyons-Burney is a leader in the Ozark area pharmacy community and has held leadership positions in the Missouri Pharmacy Association. For questions about the webinar, contact Natalie Roy at nroy@agrisafe.org or Stacey Jenkins at sjenkins@agrisafe.org.