Noise-induced hearing loss continues to be a major concern for farmers in the midwest.  Below are materials that help explain how this type of hearing loss happens and what you can do to prevent it.
Fact sheet
Hearing loss among farmers and agricultural workers – why farmers and ag workers should be concerned about hearing loss
Handout
Click on the thumbnails below to open a 4″x9″ printer-friendly version of the handouts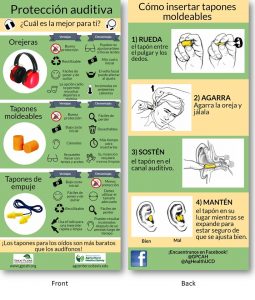 Posters
Click on the thumbnails below to open an 11″x17″ .jpg version of each poster. You may choose the GPCAH version or a version with room to add your organization's logo. If you do add your own logo to the poster, please let us know how you are using it by emailing us at cph-greatplainscenter@uiowa.edu. Rules for co-branding are available here.
GPCAH logo only
Co-branding with room to add your own logo
Hearing loss simulation
HLSim Hearing loss simulator – NIOSH PC-based hearing loss simulator (free for download)
HLSim Quick reference handout – handout describing installation and key features of HLSim
HLSim interactive activities handout – experiential learning scenarios for use with HLSim
Audio recordings – voice recordings and agricultural sounds for use in hearing loss simulators
Interactive activities & teaching tools
Hair cell model activity – hands-on activity using pipe-cleaners to model how hair cells are damaged
Media
Hearing protection never too early or too late – Stephanie Leonard and Fred Gerr, Iowa Farmer Today, February 2015
Pilot Research
2015: Increasing the use of hearing protection among young adult swine confinement workers. J Rudolphi, D Rohlman, University of Iowa, Department of Occupational and Environmental Health
2015: Noise Induced Hearing Loss (NIHL) Simulation and Hearing Protection Device Fit Testing. J Gibbs, M Cheyney, University of Iowa, Department of Occupational and Environmental Health
2013: Evaluation of Technology-based Interventions to Increase the Use of Hearing Protection among Adolescent Farmworkers in Iowa. K Khan, D Rohlman, S Tonelli, University of Iowa, Department of Occupational and Environmental Health, Iowa City, IA; A Winborn, Greater Johnson County Rural Health and Safety Clinic (RHSC)
2008: Development of a task-based noise exposure database for agricultural grain farming operations, M Humann, UI DOEH, Iowa City
2007: Evaluating noise exposures of rural youth. M Humann, University of Iowa (UI) Department of Occupational and Environmental Health (DOEH), Iowa City
Scientific publications
Sprince N, Park H, Zwerling C, Lynch C, Whitten P, Thu K, Burmeister L, Gillette P, Alavanja, M (2003). Risk factors for animal-related injury among Iowa large-livestock farmers: a case-control study nested in the Agricultural Health Study.  Jounal of Rural Health. 19(2): 165-73. [PMID: 12696853]