We will soon begin accepting pilot grant applications for the 2021 cycle.  Please check back.
The Center funds pilot projects (up to $30,000 per project) intended to promote innovative outreach and research efforts to prevent agricultural injury and illness. The pilot program supports both community-based organizations and academic researchers, especially new investigators and trainees.
Proposals addressing mental health, chemical safety, machine safety, and prevention of slips, trips, and falls are especially encouraged. However, any topic of relevance to the GPCAH mission and/or NIOSH priority goals for the Agriculture, Forestry and Fishing industry sector is welcome.
Community outreach/education pilot grants
Potential grantees are typically staff members of community-based entities who will develop and deliver evidence-based agricultural health outreach programs. Projects will be reviewed for feasibility, impact, and ability to test innovative outreach/education methods. Learn more about the project and how to apply here.
Academic/scholarly research pilot grants
Potential recipients include students, staff, and faculty of academic institutions who are creating new agricultural safety and health knowledge and/or assessing and promoting best safety and health practices. Basic and applied research projects will be reviewed for scientific merit. Learn more about the project and how to apply here.
Pilot Grant Webinar and PDF: Get some great tips for writing your pilot grant.
Congratulations 2020 pilot grant award recipients!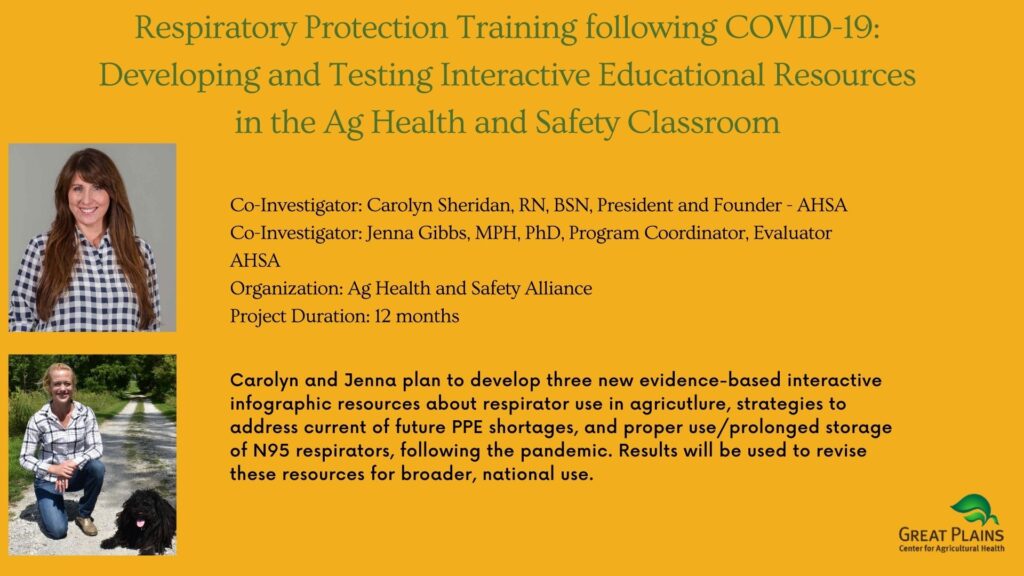 ]
Investigator Profile: Amanda Holmstrom, PhD, Michigan State University
Growing Resiliency in Tough Times (GRITT): A Text-messaging Mental Health Intervention for Farmers
Investigator Profile: Nicole Novak, PhD, University of Iowa and Sara Ziegenhorn, Exec. Director, Iowa Harm Reduction Coalition
Opioid Crisis Response in Farm Communities: Overdose Prevention and Training for Farmers and Agricultural Workers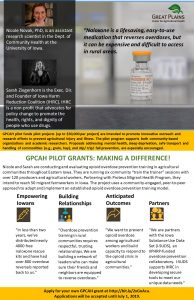 More GPCAH pilot grants
Find information about previous community and academic pilot grants here.